FRAUD WARNING!
Please note that there have been illegal attempts to contact various parties on behalf of our company, impersonating various officers of Greenrock Capital Ltd and mimicking our phone numbers and emails.  If you are aware of any of these cases please report them to law enforcement bodies and Action Fraud. Please also report it to us over phone +44-777-077-2077 or email [email protected]. Neither Greenrock Capital not any of its officers are advising or consulting any individuals. We do not do business with individuals at all – we only work with eligible corporates. We have not been trying solicit any business from or offer our services to anyone in Europe at all over the last 6 months.
"All information on this website is property of Greenrock Capital Limited. Nothing from this website can be copied or used without written permission of Greenrock Capital Limited. Any replication or use of the content of this website without our permission is illegal "

Bairam Valiyev is a senior partner with a successful track record of over 20 years in banking and extensive experience gained at Citigroup, ING, Merrill Lynch and most recently at VTB Capital.  Bairam has originated and executed a number of complex large-scale transactions across different industries in CEEMEA.
In 1998-2001 Bairam was part of the team of opened and expanded Citigroup's subsidiary in Kazakhstan, turning it into a leading successful regional franchise.
From 2001 to 2007, Bairam built up successful Debt Capital Markets business for ING in Central Asia, including pioneering Hybrid Tier 1 and Lower Tier 2 capital issuance for the leading regional banks, leading ING to the tops of IFR league tables for Kazakhstan. He further led opening Equity Capital markets for the country with IPOs of KazakhGold and ShalkiyaZink etc.
He originated and completed a number of benchmark regional transactions, including the disposal of major oil and gas producers and refineries at Merrill Lynch in 2007-2010.
Bairam's track record includes Nostrum Oil & Gas premium listing, a number of other transactions for ERNC and a large number of Eurobonds: Zhaikmunai, Kazkommertsbank, Bank TuranAlem, ATF Bank,  Bank CenterCredit, KazakhGold,  KazTransGas, Hurricane, Azovstal, STIROL and other.
Bairam studied Chemical Engineering and International Economics in Kazakhstan and holds a full-time MBA from the University of Notre Dame, Indiana.  He is CFA Charterholder and held number of board positions in Kazakhstan and Azerbaijan.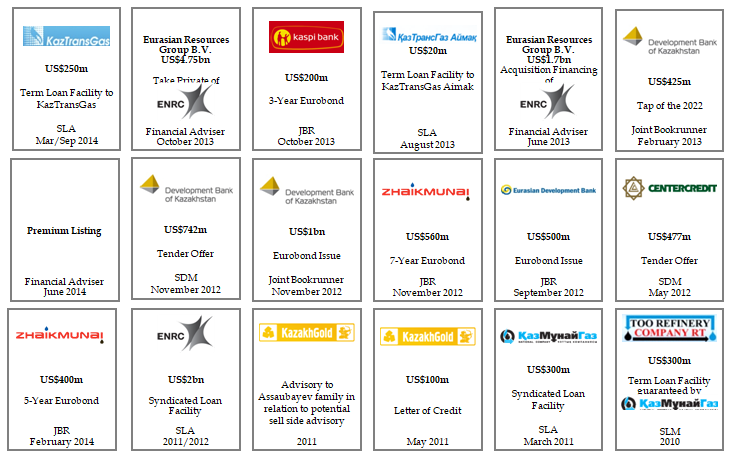 How can we assist you build your business?
Business consulting firm focusing on Central Asia and the Caucasus.
Call or message us to let us know how we can help. We are available 24 hours a day, 7 days a week.
Greenrock Capital Ltd
152-160 City Road
London
EC1V 2NX
The United Kingdom